Geosoftware and dGB Earth Science donate Software worth over $200,000 to the Department of Physics
Tue 5 Apr 2022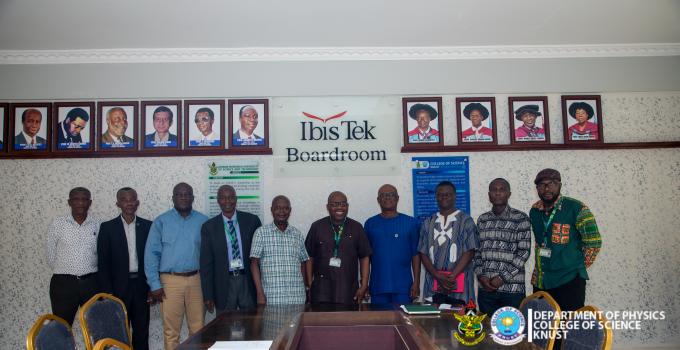 dGB Earth Sciences and Geosoftware, two leading companies in the oil and gas services industry, have presented seismic interpretation and reservoir characterization software to support the oil and gas geophysics program at the College of Science, Kwame Nkrumah University of Science and Technology (KNUST). In his welcome address, the Provost of the College of Science, Prof Leonard Amekudzi, stated that as part of his vision for the College of Science, he envisages more collaboration between industry and the College, and the donation by the two companies is a step in that direction. "The software will play a significant role in the training of students, research in the University and in increasing Ghana's local content capacity", said Prof Amekudzi
Prof A. Acheampong Aning, the Coordinator of the Geophysics Unit, expressed sincere appreciation to the two companies for donating the software to the Unit. He explained that the software presented will play a crucial role in the training of students to pursue careers in the oil and gas industry.
dGB Earth Sciences is donating Opendtect Pro, seismic interpretation software for visualizing, analyzing, interpreting 2D, 3D and 4D seismic data with extended functionality and commercial plug-ins worth over $86,000. dGB Earth Sciences has been operating since 1995. Its software, OpendTect, is used by more than 50,000 users in 146 countries worldwide. They serve thousands of open-source users, thousands of academic users and hundreds of commercial users. The commercial user base covers the entire spectrum of seismic interpretation users in the Oil and Gas Industry, Geothermal Industry, Mining and Geo-Engineering. Arnaud Huck, the Chief Technology Officer of dGB Earth Sciences, said they are glad to welcome KNUST to the pool of Universities they support with software, and they hope the software helps students build their skill-set with tools that are being used in industry.
Geosoftware donated HampsonRussell and Powerlog for seismic reservoir characterization and multi-well log analysis, worth over $126,000. GeoSoftware provides advanced software to help E & P companies develop a better understanding of the subsurface, manage exploration and development risks, and maximize the potential of reserves. "The software we have donated to the University is used by industry in Ghana and the state oil company, GNPC', said Natasha Hunt, the Business Manager, Geosoftware Europe and Africa. She hopes the software will help students gain valuable skills, provide them with opportunities to pursue careers in petroleum geosciences and support the University undertake advanced research.
The donation will make it possible for Master's and PhD students to conduct cutting edge research which will enhance the productivity of oil fields in Ghana. Lecturers can also utilize the software for research and training purposes enabling the training of capable geophysicists to man Ghana's oil and gas exploration industry and boost the government's local content drive. The software donation was facilitated by Dr Cyril D. Boateng, a lecturer in the Department of Physics.