PHYSAG Executives welcome freshers to school
Wed 13 Jan 2021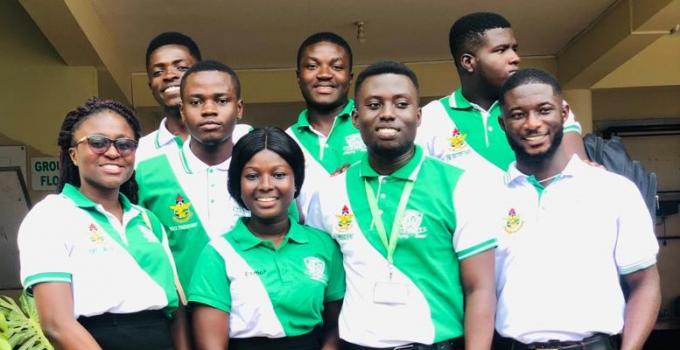 WELCOME ADDRESS BY PHYSAG PRESIDENT: RICHARD ASIRIFI
On behalf of the Physics Students Association of Ghana- KNUST, I welcome you all to the Physics Department. It really gives me the greatest pleasure to welcome our freshmen  to the University community. I joined KNUST two years ago and have been intrigued by the Department and University at large. I hope you are excited as I have been to enter a campus with unlimited possibilities. I believe that the main goal of university education is to facilitate the intellectual maturation and development of students. Albert Einstein once said,  "The value of education in a college, is not the learning of many facts but the training of the mind to think something that cannot be learned from textbooks". What then are the things that cannot be learned from textbooks alone? Today, I wish to share one.
One thing I would like you to learn from the university is Empathy. i.e. the ability to understand and share the feelings of another. Today we live in a world where conflicts and violence between nations, races, religions, political parties are a daily fare. We need a generation of young people like us who have genuine care and respect for nature and humanity. Indeed, to care for others, to be responsible for their own actions, to serve the local community and beyond is one of our department and university's core value.
I have the privilege to announce to you that our department is one of the best in KNUST and was the 3rd best in KNUST as announced during this year's Graduation ceremony. To mention a few, the solar power electric 4x4 pick-up, the traffic light technology you see around campus are all great and laudable achievements of this Department. Be proud to be a part of it. With studies, lecturers are the best and are eager, willing and dedicated to give you all they can in order for you to realize your hopes and dreams of becoming an all rounded graduate. Therefore, I urge you, pay enough attention to your academics, yet find time to take part in extracurricular activities, strike a balance, because going to the university is not just about finding a well-paid job; it is a place for you to explore and transform. How much you receive at the end of the journey depends on how much effort you put it. As you begin your studies here in the Physics Department, set goals for yourself, study hard, learn as much as possible, make good use of the opportunities available here. I trust that the vigorous and personal education in the Physics Department of KNUST will help you grow and achieve your potentials.
Again, I introduce you to the PHYSAG representatives
Richard Asirifi – President

Prosper Allo Dellah – Vice President

Christopher Akuka Akurugu – General Secretary

Nana Afua Gyau – Womens'Commissioner

Kyeimiah Amo Thomas – Financial Secretary

Frederick Eshun – Organizing Secretary
On behalf of the HoD, our patrons, senior members, PHYSAG welcomes you to the Department of Physics.