Meteorology and Climate Science Unit (KNUST) partner GMet and GCRF African SWIFT to improve weather forecasts in Ghana
Thu 30 Sep 2021 https://africanswift.org/2021/09/16/testbed-3-opening-speeches/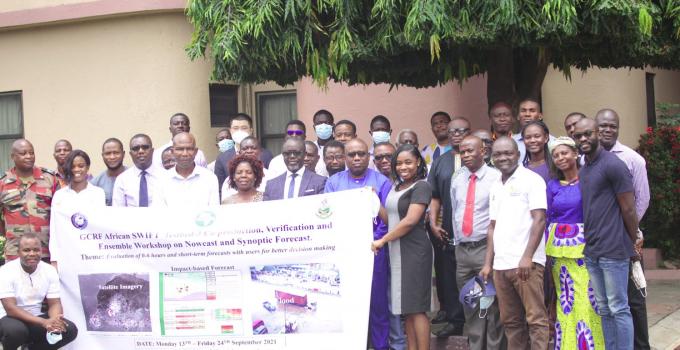 The Meteorology and Climate Science Unit, Department of Physics partnered with Ghana Meteorological Agency and the Global Challenges Research Fund African Science for Weather Information and Forecasting Techniques (GCRF African SWIFT) to organize a two-week Project Testbed3 in Accra, Ghana from 13th to 24th September 2021. 
The Testbed-3, which is an initiative of the GCRF African SWIFT project (https://africanswift.org) and the first of its kind in tropical Africa, took place at the Miklin Hotel in Accra, commencing with an opening ceremony graced with key note messages from Prof. Leonard K. Amekudzi (Provost, College of Science), Prof. Benjamin Lamptey (Africa Co-Lead, SWIFT project) and Mr. Eric Asuman (AG. Director-General of the Ghana Meteorological Agency). The Testbed-3, held partially virtually, provided a unique opportunity for forecasters and researchers to come together in a quasi-operational environment to test and evaluate new tools and methods for forecasting weather, including high-impact weather, on time scales from a few hours to a few days. Users were equally engaged in the Testbed-3 to chart a new course and work together with scientists to improve weather forecasts in Ghana. The group developed a user-friendly forecast map which will improve the ease in dissemination and user interpretation of weather forecast information over the country.
Moreover, Nowcasting (0 - 6h forecast) was operationalized during the Testbed 3. The user-engagement allowed users to provide real-time information from their individual locations at various times of day. These information allowed for effective forecast evaluation and enhancement, as well as, an enhanced engagement with the various user groups comprising Africa World Airline, Ghana Fire Service, Ghana Maritime Authority, Ghana Air force, Fisheries Commission, Greener Impact International, Ghana News Agency, National Disaster Management Organisation, Ministry of Food and Agriculture, Volta River Authority, Vegetable Producers & Exporters Association of Ghana, and several others.
While ongoing in Ghana, similar events were organized by project partners in Niger and Senegal. At 1400 UTC each day, all partner countries engaged in a cross-country meeting to discuss their observations based on the adopted, unified Standard Operating Procedures (SOPs). Nigeria commenced their Testbed a week after the other partners ended.
The GCRF African SWIFT was launched in 2017, and is a £9 million programme led by the National Centre for Atmospheric Science (NCAS) and funded by the Global Challenges Research Fund. The programme includes partners from universities and national meteorological services in Ghana, Kenya, Niger, Nigeria, Senegal and the UK.
Congratulations to all project partners, especially our scientists from the Meteorology and Climate Science Unit, Department of Physics, KNUST.
For more information, please check at:
https://africanswift.org/2021/09/16/testbed-3-opening-speeches/